Get ready to ignite your profits within the dating industry by building a platform through our Tinder Clone App Script? Keep reading to know how to get started with the tinder clone app script in detail.
The digital shift in everything has a huge impact on everything we do. Even the relationships are not far to be affected with the same. In the meantime, the internet is becoming a necessity you can see a wave of human connections via it. Every day millions of people share the same interests, find each other using the internet. Thanks to applications like tinder develop by tinder clone app script that makes it possible.
Tinder Clone App: The New Age Application To Connect
Coupled with miscellaneous features, connecting people globally tinder is creating buzz for people to find their love. As a result, the concept of dating via app conceptualize it in form of business. Several rising business owners are mulling over the concept and looking forward to developing an app like tinder.
By creating a dating platform they owe to grab the attention of potential users and garnish profits. And our Tinder Clone App script is here to offer the same. Get your hands on to enter the lucrative on-demand dating sector by launching an app like tinder in a couple of minutes. Our one-stop clone script has everything to create your dream dating app. Dig the post to learn in detail!
Do You Know?
Tinder has around 75 million monthly active users across the globe.
The U.S. is amongst the top countries using the tinder app with around 43% of the population.
Talking about the downloading figures then till now it has been downloaded over 400 million times
The demographic orientation of the application is so wide that it is available in 190 countries. Furthermore, you will find it in 40 languages making it a more user friendly option.
It is recorded by tinder that around 1.5 million of users go on the date per week via using the tinder app.
The active logging time of the tinder user is four times a day making it a popular dating platform.
Want Clone App Script?
Fill the form below to get it
Why Tinder Clone App Script?

The era is digital so is the needs of the people. In addition, people prefer using smartphones for everything they need. Similarly finding the love of their life through the internet was a dream. But not anymore. An app like tinder makes their search easier by making direct connections. Such apps let users register, add their interests, search for a similar one, talk, meet, and date each other. Isn't that interesting. Well, it is.
Consequently, the platform has witnessed immense popularity after a plethora of users finds it suitable. As a result, the booming businesses that were planning for new startups or expanding their business found it as an opportunity. The added popularity of tinder gives birth to incredible business ideas boosting the need for on-demand dating platforms developers.
Here is where Tinder Clone App Script came into the limelight. However, with a number of clone app development finding the right script for your dating business become hectic. Not now, because we are here with a solution. We bring you a full-proof Tinder Clone App Script delineated with robust features.
Our platform is already built with all the features letting users instantly launch the tinder clone app within 30 minutes. Furthermore, it will help you to trigger the idea of connecting people with similar interests depending on their location. Isn't that great? Let's know more about our script in detail!

Stalwart Features You Will Find Within Our Tinder Clone App Script

There is no denying in the fact that Tinder is winning the hearts. But do you know how? It's because of the fascinating features that it possesses. In addition, to make your on-demand dating app like tinder successful, our clone script got it covered. Take a closer look at the alluring features you can't take eyes off to arouse dating business.
View New Matches
This feature within the tinder clone app lets users steer through other users' profiles. In short, users can directly navigate the profile and connect with them directly.
Easy Logging
Save your users from having to go through the tedious procedure of logging in. There will be no more hour-long setups. The app now allows users to import their personal information and exchange photographs.
Limitless Swiping
Our tinder clone app script lets your launch apps with premium features. In contrast to the standard applications, the users will enjoy limitless swiping. In short, it will not be limited to 20 or 30 swipes making the app more customer-oriented.
Setting Preferences
Another feature within the tinder clone app script is for users. Within this, the users can easily set their preferences and get connected with the person of the same preferences. Conversely, this feature helps them Take exploration to a whole new level! Users may establish their preferences in the app and the app will match them with other users who share their interests through several options.
Virtual Gifting
These interactive features make your tinder clone app more acceptable to users. In brief, the feature lets users send virtual gifts to the users they meet and plan to date. Moreover, it boosts engagement within the app.
Search Filters
Users will enjoy your app more if the suggestions are better. The software has a sophisticated filter that allows users to search for their ideal match based on criteria such as age, distance, and gender.
Audio/Video Conference Call
The calling feature has become an important aspect of almost every platform. Our tinder clone app script accommodates the same bringing audio video conference call. With this feature, users can freely communicate with each other.
Multilingual Support
Another feature that makes the tinder clone app desirable is the multilingual support. The app dashboard and as a whole is available in several languages. With this facility, address the need of a wide audience and let them enjoy the app in their own local language.

How Revenue Is Generated Via Tinder Clone App?
For the new-age entrepreneurs who are pondering over the thought to get started with the tinder clone app or not? Here is something for you. Check out the amazing monetization strategies and features built within the tinder clone app generating revenue for business owners. Let's explore one by one!

Extra Swiping And Liking

The first way to generate profit within the tinder clone app is by adding premium swipes. As discussed earlier standard tinder clone offers you limited swiping. Adding premium feature within it make it limitless. Furthermore, users need to pay and enjoy unlimited swiping.

Unmatched Communication

There are times the profile of users does not get matched. But still, they want to communicate with that person. In that scenario by paying a certain amount users can easily talk and chat with unmatching profiles. By paying a certain amount, users can now chat with unmatched profiles listed on the app.

Setting Physical Dates

You can set a certain amount within the tinder clone app script for users to set a physical date with their matching profiles. Users can set the date, time, and venue in the app and can set a date by itself. The app will send the notification to both the matching user.

In-App Advertising

These are the basic features you will find in every application. Likewise, the tinder clone app offers another business opportunity to promote themselves. The platform offers in-app advertising and earns commission via a number of views, click, and leads through the user.

Premium Location Setting

There are times some users feel cringe at not letting know others easily. Here is where these premium features come in. By paying a certain amount users can set hide their location not letting other users know about you. Furthermore, this premium setting gives app owners a chance to relish revenue.
Different Feature Segmentation Within Our Tinder Clone App Script
We leave no stone unturned in bringing you a cut-through script. Our ready-made app script solution lets you launch an app that clearly depicts every segment. Our app script is exclusively designed keeping the needs of both businesses and users in mind.

Let's Explore Each Segment And Its Features In Brief!

Features For Users
Login/Register
Likes/Dislikes
Making Matches
Match-Based Social Feed
Managing Chats
Viewing Profile Video
Exploring User Profiles
Matching Based On Location
Interests
Features For Admin
Reports
Viewing And Managing User
Managing Push Notifications
Viewing and Managing Email
Like/Dislike Management
Viewing And Managing Site
Advance Features
Super Likes
Hiding Profile
Hiding Location
Chatting with Unmatched Users
Blocking User
Rewinding the Swipes Done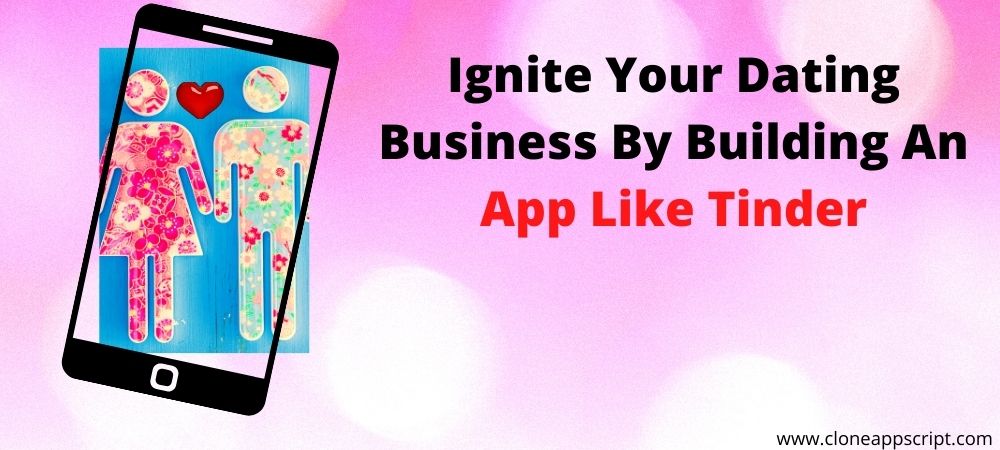 What Makes Us Unique In Building Tinder Clone App?
Ready to kickstart your dating business via a tinder clone app script? Don't forget to remember us. We are the reliable clone app script providers bringing you a wide range of scripts to launch your app in a matter of minutes. In Brief, know what makes us best from others:

Affordable Solution
We value the hard-earned money of our clients. Hence, we bring the quality and affordable ready-made clone app script that costs 1/10th of the actual price charge in the market. In contrast to another script, it is affordable and pocket-friendly.
Bug Free Solution
Imagine you are ready to launch an app that is stuck due to any technical issues? Well, that would be irritating. Hence, in that case, our solution is best. Our team of experts does every possible thing to bring our scripts that are completely bug-free. However, if any issues arise we will be solving them immediately.
Expertise At Peak
We have a team of professionals who work delicately to provide result-driven app script solutions are always a strong developer community as a result of our vow. We've perfected the art of creating high-quality dating applications that have helped people become industry leaders. We'll work side by side and won't stop until you're completely satisfied.
Transparency At First
Staying in the dark is unpleasant to everyone and likewise for clients. Thereby, to anticipate it we keep things clear, provide clients exposure to every step right from providing a script to launching a robust app like Tinder.
Security at Peak
We understand the privacy concern and respect the privacy of all our clients. Thereby, our clone app script is featured with end-to-end encryption to provide users with a safe and secure experience.
So what you are planning for? Connect with us today to get your dating clone script and launch an app like tinder successfully.
FAQ's
Q: What Is Tinder Clone?
A: Tinder Clone app is a dating app software similar to the popular Tinder app. The name tinder clone associates it comprises all the features that a standard feature has.
Q: Is Tinder Clone App Script Is Customizable?
A: The answer is yes, the script can be customized easily as per the business needs. As a result, you will get the dating app of your dreams built with desired features.
Q: What Makes Tinder Clone App So Desirable?
A: Built with stellar features like unlimited swiping, adding favoritism, easy search bar, coins wallet, and amazing monetization strategies is what makes the tinder clone app a fruitful option for startups.
Q: How Does Tinder Clone App Generate Revenue?
A: Tinder clone app is built with amazing monetization features like 'Swipe & Match, Scheduling Date, Adding Preferences, Advanced Subscription Plans, Coins Wallet, and many more.
Q: What is a Tinder Clone App Script?
A: Tinder clone app script is a source code platform that will help you to create a perfect on-demand dating app like tinder. Moreover, the script has everything to launch the tinder clone app instantly within 30 minutes.
Want Clone App Script?
Fill the form below to get it