The release of the Discord app in May 2015 created a buzz within the digital world. Businesses are keen to create its clone via Discord Clone App Script. Initially, the app hold gamers but now it is for everyone. Furthermore, with 250 million users worldwide the app is blooming with flying colors.
Particularly talking about the gamers they desire for a safe platform to enjoy and connect with their fellow players. Here is why apps like discord came into the picture. The application in addition to providing a secure platform for online gaming also boosts communications. In short, users can create channels and groups and instant messaging, video calling, and phone calls.
Moreover, discord hosts a variety of art groups, job fair portals, e-learning channels, brand promotion initiatives, and school clubs. As a result, developing apps like Discord is on rising. Coupled with superlative features creating an app like Discord is a great way for rising economies to generate higher revenue.

Yes, you heard it right. With discord clone app development in just a few days, it is possible to give a tough competition. But the question is how to do that? No worries, the below information got everything covered.

Without any ado, let's explore the right way on how to get started with discord clone app development instantly?


What's New To Know About Discord App?
The market of digital apps keeps on evolving so as their features. As a result, you will witness several innovations in the discord app too. However, take a closer look at the latest innovation to create a similar app to discord via discord clone app script.
Stage Discovery
It is a new Discord feature that allows hosts to sell tickets directly to their intended audience. In short, on the Discord app, users can see which stages are currently running, purchase tickets, and simply join the host's private community.
Audio Chat
To compete with Clubhouse, Facebook, and Twitter, Discord has implemented an audio chat function. On the online platform, gamers can listen to all of the active audio conversations. As a result, audio chats will be dispersed among several different groups or servers. In addition to, users can join audio discussions based on their preferences and interests.
Learning Management System
Discord is becoming more popular among professors for communicating with students in group gatherings, online exhibitions, and virtual classes. It's given us a versatile learning management system (LMS). Teachers can use a combination of text and speech to impart their knowledge. Therefore, students may simply share documents and send emojis and GIFs to their teachers.
Integration to Play Station Network
Sony, a well-known Japanese corporation, has invested in Discord. In 2022, the PlayStation Network (PSN) will incorporate the Discord instant chat program. Hence, discord currently supports Xbox Live, this will increase the platform's total monthly active users to 140 million.
Poker Night New Thing
Discord Poker Night was just created as a type of – social game for card players. There are options for video and voice chat. Gamers can simply communicate via voice and webcam. However, competitions among a group of players are also possible.
Entrepreneurs that want to dominate the digital media market can work with Clone App Script to create a bespoke Discord clone app. Hence, for users and moderators, our talented development team will produce feature-rich Android and iOS apps. Therefore, we'll also create a sophisticated admin panel and an advanced web dashboard.
Brief Insight to Discord Clone App Development Business Model
Discord does not make profits like other apps through advertisements. The app brings together Nitro's monthly and yearly subscription membership plan. Likewise, other apps discord also has a subscription plan to provide users with premium benefits. Next, the subscription plan is the primary source to generate profit margins for the Discord app clone. Several additional functions are available to users.
Furthermore, gamers benefit from animated avatars, high-resolution videos, a customized Discord tag, screen-sharing, unique emoji sharing, and the ability to submit files with larger file sizes (up to 50 MB). Hence, while developing an app similar to discord we make sure to integrate all these functionalities.
Next, the discord clone app is developed via discord clone script to bring out a cutting-edge solution. The applet video game makers globally release their creations. However, when they do so the developers receive 90% of the revenue, and the rest 10 % is earned by the one who owns the platform. Isn't that a profit-making option? The answer is yes!
This is the reason launching an app like discord can serve as a strong force to lead the competitive business market and relish profits.
How Discord Clone Script Aids In Development of its Clone Application?
The development of the discord clone app is not easy as it looks. However, with our ready-made discord clone app script things become easy than before. Coupled with all the features and functionality clone app script has everything to launch the discord app instantly. Check out all things you will find within the discord clone script to get started:
User Registeration
Users create an account on the Discord clone app by providing an email address or a phone number. A QR code scanning facility ensures quick registration.
Specific Channels
Each Discord clone channel discusses a specific topic, and users can join any of them based on their interests. Moreover, animal welfare, cuisine, education, and e-sports are the most popular uses of channels. GIFs, emoticons, photos, and videos are all options for users to contribute their material.
Support Voice Talking
For users who are registered in a certain channel, the Discord app clone supports voice talking. Other players will be able to see you and will be able to launch a conversation with you. It's a suitable substitute for phone calls.
Easy Management
On an app like Discord, moderators have a lot of control. They successfully manage the discussions on channels and groups. To avoid pointless conflicts, they can only give access to a few members. For private talks, the Discord clone software allows you to create private channels.
Live Streaming
It is for gamers as they can use the Discord clone software to live to stream their battles or competitions. High resolution improves the video quality. By inviting other gamers to share their screens, players can get real-time updates.
Review and Feedback
On the Discord clone, there is an integrated feedback mechanism. Users can offer their thoughts on video and voice call difficulties, damaged merchandise, server management, and particular user interface (UI) issues.
24/7 Customer Support
Users access technical help 24 hours a day, seven days a week via chat, email, phone, and Twitter on the Discord app clone. Account administration, billing, community activities, and server configuration are all issues gamers may efficiently resolve.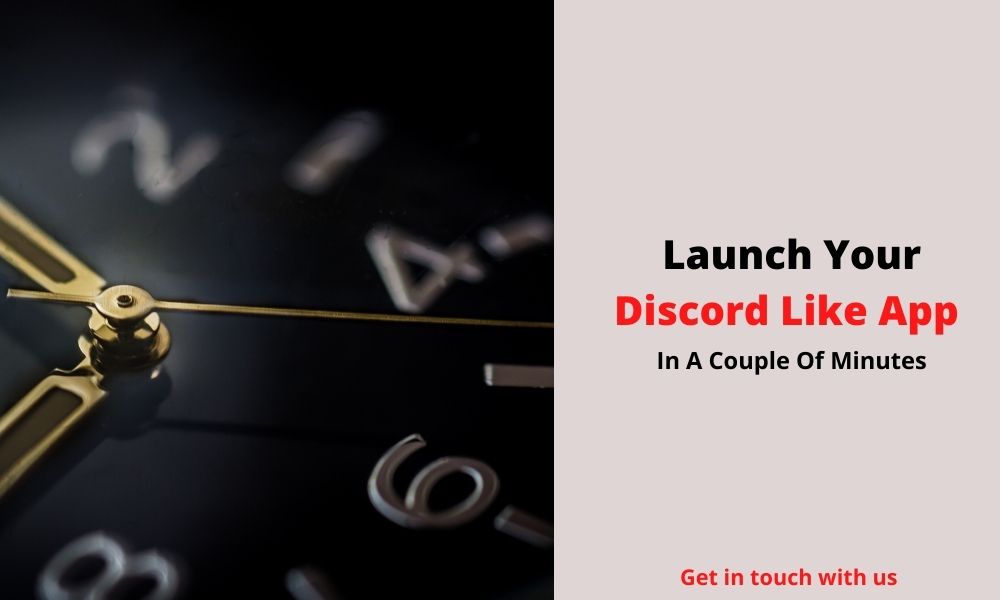 What Does It Cost For Discord Clone App Development?
The cost of creating a clone app via discord clone app script varies with the development company. There is no such exact estimation. However, business analysis, market research, UI/UX design, front-end, and back-end development, testing, placing the solution on the market, and performing digital marketing campaigns account for the majority of costs. Therefore, the cost varies with all the above factors involved within the discord clone app development.
Additionally, the cost can rise with the additional services involved like software upgrades, bug fixes, maintenance, or technical support, the development cost may rise.
However, in that scenario, we bring you the affordable clone app solution. Our clone app development may cost of 1/10th of the total cost in the market. In addition, the cost is reduced to a very minimal amount in comparison to others which is why we are your safest bet.
FAQs

Q: Can the Discord clone app can be customized as per the needs?
A: The answer is yes. We provide post-development integration to provide robust and updated applications to make you stay with the current trends.
Q: Does discord clone is cross-platform?
A: Yes, the easy-to-use application works smoothly on Android, iOS, Linux, Mac OS X, and Windows.
Final Thoughts
It is needless to say that developing apps like discord can give you tons of revenue. In addition to robust functionality, the application is a smart way to rule the competitive market. However, as an entrepreneur, if you have made up your mind and planning to develop a discord clone via discord clone script you are landed at the right place.
We know what your needs are thus work hard to help you attain a new height of success. Our team of developers and designers bring you cutting-edge application designed with a diverse and strong tech stack. By providing you with a white label solution we save your time to launch your own discord app in just 30 minutes.
What are you waiting for? Get to the next step of your journey by starting with discord clone app development with us. Connect us and we will turn your ideas into reality!