NFT has got a boom with the innovation of the Metaverse NFT marketplace. Taking users closer to the virtual era, NFT metaverse blazed a new trail in the crypto world. Till now, people have been turning their artworks into exquisite assets on the NFT marketplace.
They used to sell and buy their work digitally, earning valuable tokens like NFTs. Being a popular platform, the extent of revenue generated via the NFT marketplace is unmatchable. But now, the platform is evolving, hitting new milestones with avant-garde Metaverse.
I don't think that Metaverse is primarily about being engaged with the internet more. I think it's about being engaged more naturally."

Mark Zuckerberg
Do you know?
$10 billion has been invested in the Metaverse by Meta's Reality Labs segment
The market of AR and VR is high; the Metaverse possesses both bringing the virtual world to the forefront.
The global Metaverse market is expect to reach $280 billion by 2025
The word 'Metaverse' means 'beyond the universe.'
The metaverse concept evolves, making online spaces and interactions more multidimensional than today's existing technology. Let's have a closer look at every aspect associated with NFT marketplace development.
Metaverse: The Next Big Thing In NFT Marketplace
Metaverse has recently come into the limelight, letting users create a virtual place to land their imagination by creating imagination in the form of avatars, solely called metaverses. Over there it can be anything buildings, avatars, or any other properties that the creator imagines.
In addition to they can buy, sell and bid metaverses in exchange for cryptos on Metaverse NFT platforms. So, there is no doubt it is a lucrative segment to relish profits.  
We bring you a white label Metaverse NFT Marketplace Development reflecting all your imaginary ideas if you are thinking about the same. So, what are you waiting for? Get ready to generate profits with our instant white label metaverse platform development.
Undeniable Features Of Metaverse NFT Marketplace Development
As a Metaverse NFT Marketplace Development company, we leave no stone unturned in offering you exclusive Metaverse. Ordinarily, our platform operates on the blockchain network built with the following breathtaking features. 
Secured and Scalable
We do not compromise on security. To provide utmost security, our white-labeled platform is integrated with SSOS, CSRF, SSRF to offer protection against breaches and hacking.
Virtual Reality
The platform is all about going beyond the virtual world; thus, we accommodate VR and augmented reality.
Multi Wallet Support
By providing access to multi wallets, we make sure to address the needs of every customer. Conversely, our platform integrates with multi wallets making transactions easy and straightforward. 
Smart User-Experience
The diligent platform designed by us features next-gen functionality to provide a smart customer experience to the users.
No Middle Man
There is no third person within the Metaverse NFT marketplace, which means the platform is entirely decentralized.
Digital Presence
Metaverse marketplace is all about bringing users closer to the digital world. In particular, users can digitally imagine and bring their imagination to life via these digital platforms.  
Avatars
Avatar's creation is another stellar feature that depicts the user's identity. Additionally, by creating avatars, users can identify and thrive within the marketplace. 
Home Space
The metaverse marketplace development comprises the home space for users to interact within the NFT space via digital avatars. It is more tangible with other home spaces.
Teleporting
Teleporting is another exciting benefit you can't take your eyes off. With the reporting, the users can move from one virtual room to another, helping them thrive better within the marketplace.
Interoperability
To provide users with open and seamless functionality, the Metaverse NFT marketplace should have high Interoperability.
Virtual Goods
Virtual goods are the digital representation of the product exchanged within the crypto world. The goods can be anything existing in the virtual realm.
Natural Interfaces
There are specialized controllers delineated within the platform controlling primary interfaces such as hands and voice. Generally, these interfaces are basically to make the platform user-friendly. 
Role of NFTs Within Metaverse NFT Marketplace
One of the significant segments of the Metaverse is the incorporation of the NFTs. NFT is a form of digital art. It can be illustration, music, memes, virtual clothing pieces, magazine articles, etc.
The Metaverse is a virtual marketplace where these digital arts act as avatars. Therefore, these avatars, in turn, let users interact and get exchange easily to earn cryptocurrencies, 
No matter what the user is out to buy, be it building, land, assets, or anything, it will be in the form of NFT. The buying and selling of NFT in digital format via Metaverse constitute the need for metaverse platform development.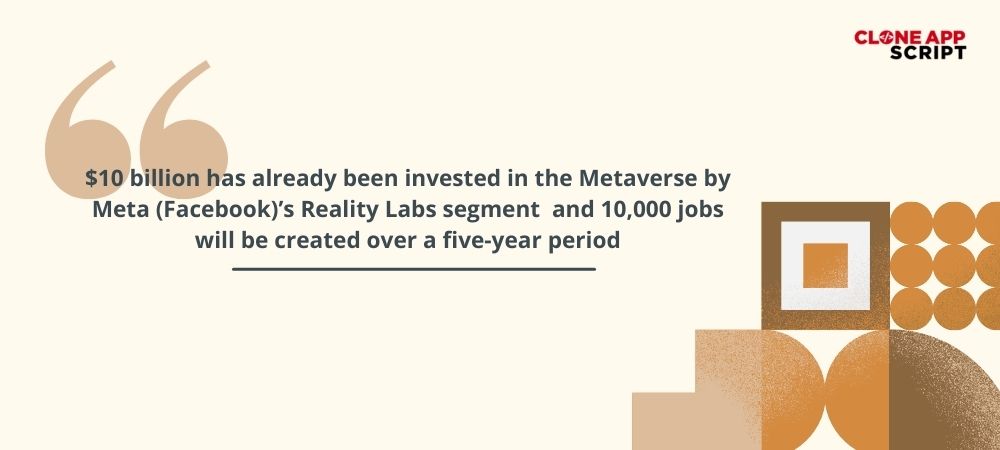 Benefits of Our Metaverse NFT Development You Can't Take Your Eyes Off
Meet the stellar Metaverse NFT marketplace platform synthesized with robust features providing immense benefits to users. Furthermore, let's dive into some heart-winning advantages that the platform has to offer.
Advance Contract Audited
Metaverse NFT market development is best at enhancing and curing faults, security, and all vulnerabilities themselves. Together with advance functionality, the smart platform does not require any additional technology to get problems resolved. 
Effective Trading Experience
The comprehensive functionality and seamless features bring together the efficiency and effectiveness within the trading. Additionally, built with new-age techniques and algorithms, it offers users the best possible experience compared to other marketplaces.
Pre-tested
Our ready-to-go metaverse marketplace is test at several levels to make it ultimately customer-centric. Additionaly, all the bugs and faults are examine and eliminated within the process. 
Instant launch
During Metaverse NFT marketplace development, we make the process less hassle-free for our customers. Thereby, we create a marketplace that is instantly launched within 30 minutes. 
Product Experience
Another best thing is that the user can freely test and experience and test Metaverse NFT before purchasing it. Subsequently, this advantage lets clients have a clear picture about the NFT increasing their trust in the platform. 

How to Launch Metaverse NFT Marketplace ?
Time needed: 30 minutes.
Now, if you are well acquainted with the Metaverse NFT marketplace development and looking to launch the one for you, we've got you covered.  

Our team of developers follows the basic instructions to bring forefront a marketplace so that you can launch a metaverse NFT marketplace platform within 30 minutes instantly. 


Designing User Interface

Set in motion by starting with designing a user interface. Make sure it is easy and user-friendly free from bugs and breaches. In brief, more friendly the user interface, the better it is.

Smart Contracts Creation

Create intelligent contracts to enjoy the core features within the Metaverse NFT marketplace development. In brief, the platform becomes more seamless and practical. 

Setting up IPFS storage 

The next step is to set the IPFS storage in order to store all the NFTs. These NFTs later be bid, bought, or sell, providing an endless trading experience. Additionally, the storage keeps all the digital arts stores allowing users to use them anytime. 

Creating Database storage

Since the metaverse platform constitutes the user and admin, both information is important to make sure the platform is legitimate. Here is where creating a database for storing user and admin data is the next thing done in the development process.  

Integration with IPFS and UI

Once the database is created and ready to use, the next step is to complete the setup. After that, integrate it with IPFS and UI to make the marketplace more customer-oriented. 

Testing to fix bugs

After the process is complete, the platform is audited, testing at several levels. However, this is done to fix the issues and develop an entirely bug-free platform.  

Deployment in the platform

Now, the testing is done. Furthermore, the last step is deploying the Metaverse NFT marketplace platform to the client's server. Furthermore, you can also release the beta version to access a more upgraded version. 
Why Owning A Metaverse NFT Marketplace Is A Smart Choice?
Metaverse is blooming with flying colors. Coupled with indispensable features, the segment is growing day by day. Conversely, there is no doubt it is an excellent opportunity to kickstart a journey towards the crypto world securely.
Still? Pondering over the thought of having a metaverse NFT marketplace? Let's discuss this more in-depth.
Way to 3D world
The idea behind the Metaverse was not new. In brief, the idea came late after the virtual games that exist around. Metaverse is a digital universe combining all the virtual aspects.
In addition to in a broader sense, the world that operates virtually via different social media platforms is replaced by 3D environments and shared spaces. 
All in one solution
Whether buying things and services, hanging out with friends, attending meetings, etc., the platform got everything covered. Furthermore, creating a marketplace can pave your way as a rising entrepreneur to leverage every aspect and relish the profits.
However, there will be no need to have a physical existence of the thing eliminating the necessity of keeping things secure. Furthermore, metaverse being a single entity providing everything under one roof eliminates the need for different platforms. 
Hassle-free to peak
Metaverse NFT marketplace development is a specific solution with eBay and hassle-free launching. Consequently, it lets businesses become flawless to the core.
Furthermore, the launching and developing steps of the platform are easier. Furthermore, the easy step process make the platform development less hectic than any other platform. 
Plenty of tools
The metaverse marketplace development solution has several tools for optimizing its databases. In short, with ample storage and setup up it makes the platform more decentralized and effective.
Coupled with several tools, the platform aims at giving next-level efficacy and perfection in optimizing the marketplace as per the current scenario. 
Why Choose Us for the Metaverse NFT Marketplace Development?
Now, if you have made up your mind about having your own NFT marketplace development, Wherefore doesn't forget to remember us. In short, we are amongst the reliable Metaverse NFT marketplace development platform providers. In conclusion, here is what all make best amongst all:
Expertise at peak
We have a team of professional and skilled NFT marketplace developers who bring together the right expertise and knowledge, as a result, to create a result-driven platform like never before. 
Transparency at peak
We keep our clients on the same page; We are in constant touch with them right from start to end. In short, with a transparent solution, we bring a clear picture of what all the clients will get at the end. 
Budget-friendly
With our affordable solution, we reduce the development of Metaverse NFT to 1/10 th, which is relatively low in contrast to others. In short, we aim to provide you with the best possible solutions at a cost-effective price. 
24*7 customer support
Our team of experts is available round the clock to offer the best possible app to our clients. In short, we are here to rectify your issue and resolve them at the earliest. 
Security at peak
We keep constant testing on the security standards of our marketplace platform. As a result, our platform is secure from end to end, eliminating the risk of bugs and breaches. 
On-Time delivery
We value the time, therefore to begin with best we provide the instant marketplace platform that is live within 30 min, saving our clients' time. 
Scalable & Robust
We do marketplace development keeping the needs of our customers in mind. Our platform features robust functionality providing next-level scalability.  
Instant Launch
We are open to ideas and utilize them for the quick launch of the platform. In short, you will have a ready-made platform with the possibility of instant live within 30 min.
What's Next? Don't lag in tapping the door of success by availing our Metaverse NFT marketplace development services. Get in touch with our expert team to turn your dream into reality!
FAQ's
Q: Is It Safe To Use Metaverse NFT Marketplace?
A: Yes, the platform is integrated with smart contracts and features. Consequently, all the data is safe and secure within the marketplace.
Q: Is There is Any Middle Man Within the Metaverse NFT Marketplace?

A: No, there is no middleman involvement within the marketplace. In short, one can bid, buy and sell directly.