Food delivery has become the new normal with deliveroo clone app script. There is no denying that smartphones play an important role in this. You think and you have everything at your fingertips. As a result, the market of on-demand food delivery is exploding in the meantime.
With users' preferences changing to convenient food delivery options, the industry on other hand is revamping for the same. Thanks to deliveroo clone app-like solutions. Coupled with next-gen features the platform is bringing the food delivery businesses to the forefront.
The platform is making it easy for users to order their favorites and get them delivered anytime. Consequently, this is the reason the platform is grabbing the attention of potential customers. However, as an entrepreneur, if you plan to enter a food market can't lag behind to leverage deliveroo like solutions.
With endless possibilities, the platform is the best option to start a great food order delivery venture. So, what's next? Gear up with us to kick start a highly demanding food order delivery business with our white-label food Deliveroo app clone.
Deliveroo Clone App Script: The Need Of Hour
With the advancement in technology in everything, the food industry is not behind to witness the same. In addition, users also globally love ordering their favorite cuisines at doorsteps. Consequently to maintain the pace the restaurant and food business need to think about it. As a result, your restaurant business works on something out of the box.
This is where a solution like deliveroo clone app script comes to the rescue. Since no one is unknown about the popularity of the deliveroo app. Coupled with miscellaneous functionality the app is offering next-level on-demand food delivery services.
The users are getting their food right away from their favorite local restaurants. And deliveroo app in that context offering delivery earning profit from the restaurants. As a result, a lucrative opportunity for newcomers and existing businesses to relish profits are on the way.
Whether you are starting a new food business or upgrading the existing one, our white label deliveroo clone app script got you covered. Furthermore, by making the current platform seamless with recent technology the platform is perfect for entrepreneurs & startups looking to make it big in the competitive food dispatch business.
Want Clone App Script?
Fill the form below to get it
A Short Overview About Deliveroo Clone
Before we dive into the journey of launching your own white label deliveroo clone let's know what exactly is deliveroo clone is. It is an on-demand food delivery platform that allows restaurants to render meal delivery services easily. Besides it, the deliveroo clone app lets users buy their favorite cuisines from the restaurants they love. Furthermore, get that food delivered to their location.
However, if you are someone who is new to it or owns a restaurant looking to integrate the same? We are here for the best help. Our affordable Deliveroo clone lets you enjoy all the functionalities of the popular Deliveroo app and set a benchmark. In addition to robust benefits, our seamless app lets your customer order food in a couple of minutes.
List of Features Our Deliveroo Clone App Posses
Hope you are well versed with the Deliveroo clone and its importance in kick-starting your online food delivery venture. Moreover, as we move further take a closer look at the stellar features making our ready-made deliveroo clone app script viable for your food businesses. Here we go!
Easy Login
With easy registration our solution allows users to render the fast food delivery within a matter of minutes. Users can use any of the social media login to register within the application.
Live Tracking
The next feature is again user oriented letting users to track their food orders in real – time. Furthermore, right from the pickup to delivery it provides live tracking.
Multiple Payments
Our ready made solution covers all the possible payment alternatives for the customers. With this it makes the payment process hassle – free and easy for both customers and restaurants.
Smart Dashboard
As soon as users register on your deliveroo clone app they directly get access to the dashboard. The dashboard comprises all the top restaurants along with their menus. With this it helps users to directly order their favourites.
Push Notifications
The deliveroo clone app script will make users remind about your services with regular notifications. The app will send the notifications regularly providing updates to the user about what's next and new. Furthermore, it also provides real time updates regarding order confirmation, preparation and its delivery etc.
Offers And Discounts
Today's customers expect little. Hence, to retain your loyal customers don't lag behind to provide offers. With our affordable deliveroo clone app script provides customers with impressive cashbacks on their orders.
Review and Ratings
Don't you want to know how successful your platform is. Hence, to anticipate the same, our deliveroo clone app script let users leave review and feedback on the app when they render the service. The Higher the rating the better the platform.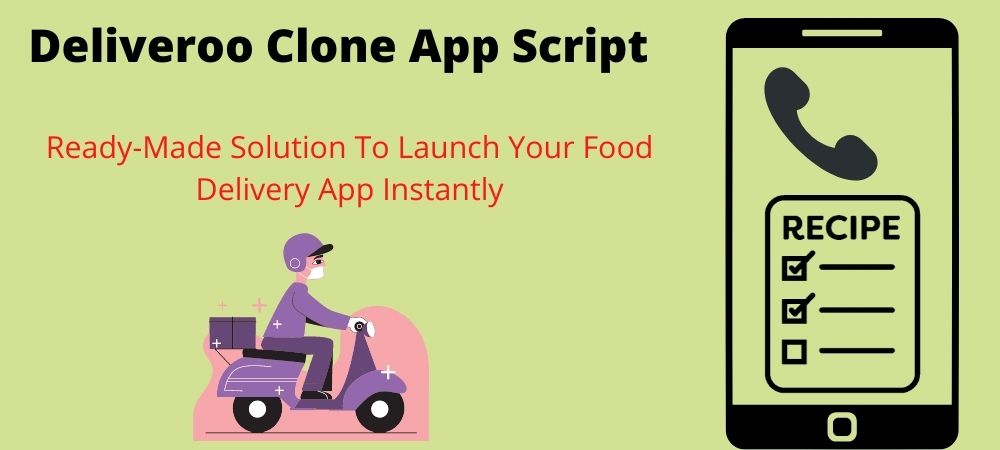 How Our Deliveroo Clone App Is Unique?


When you opt for our affordable readymade deliveroo clone app script you get a bundle of features to enjoy with. Hence, the app script turns out to be a one-stop solution for all your online food delivery business needs. Check out all the amazing features we are giving additionally in our deliveroo clone app to make it worth it for you.

Smart Menu

Our robust Deliveroo clone platform is integrated with the QR menu. With this it allows customers to scan and get to the menu directly. By organizing the menu in terms like continental, Indian, Italian, American, or Chinese it becomes easy for the users to find their favorite cuisine.

Instant Search Bar

Don't make your users feel hectic when looking for favorites. Therefore, our Deliveroo clone app with a smart search bar offers users a search bar. In short, this search bar lets them enter the cuisine and get directions to the restaurants.

In-App Calls

The other best stalwart feature you can't miss in our deliveroo clone app is the calling feature. The app lets users make a call to the restaurants for any special requirement. Furthermore, they can also call the delivery person regarding order deliveries.

Analytics Chart

No platform will provide you with the daily data and what upgrades are needed regularly. But our deliveroo clone script does it. You will be given access to an analytic dashboard displaying all data and what next you can add to grow the business.


Advertisements

This is a monetization feature where deliveroo clone script lets food delivery businesses earn profits. By providing direct promotion via banners of restaurants the app creates a winning situation for them and restaurants too.

Reasons To Choose Our Deliveroo Clone App Script
Digital transformation has taken space in every segment and the food delivery segment is witnessing the same. The new-age technology giving birth to incredible functionality. And deliveroo clone app script is one of those advancements. We completely anticipate the need for an app for the current food delivery businesses. In addition to combat, the same we bring you the Deliveroo clone app. Such apps are a great option for restaurants to simplify their workflow.
If you are still pondering over the thought of why to choose our deliveroo clone app script, here are reasons that depict the same.
Exclusive Strategy
We know what our customers want from us. Furthermore, this is why our team of experts implies the exclusive development strategy to provide the best application. Our results-driven strategies are what bring the app that helps restaurants to stand out amongst competitors. All the things are put strategically together to bring the best output together.
Timely Delivery
We value the time thus provide the deliveroo clone app script that lets clients instantly launch and make their app live within 30 minutes. Moreover, we also let customer schedule their date and time of the delivery of the application and provide the same.
Intuitive UI / UX
The application developed by the deliveroo clone app script is integrated with intuitive UI and UX. It is designed perfectly to make sure the application serves to comfort and offer hassle-free functionality.
Multi-lingual option
The other things that make our application unique are it is provided with a multilingual option. The multi-lingual is to address the needs of different sorts of customers in the language they are comfortable with.
Different Segments Within The Deliveroo Clone App
We design and develop Deliveroo Clone App keeping the needs of users as well as restaurants in mind. Hence, our focus is to bring both together at a single destination providing convenience to the peak.
Customer App
The deliveroo clone app script is designed to keep the needs of customers in mind. The design is inspired by leading players like Deliveroo, Swiggy, GrubHub & others. The UI built offers filtering, an easy search bar, real-time tracking, and many more features to make the customer experience seamless.
Customer Website
This segment within the deliverooo clone app script is for the restaurants that desire to partner with the local deliveries. Furthermore, the website lets them reach more customers and make customers choose them every time. With seamless UI the website is easy to use for users to order their favorite restaurants with ease.
Driver Delivery App
The driver delivery app is the next segment within the deliveroo clone app. This segment is for the driver who wants to make deliveries, make earnings by delivering the order. Just they need to register themselves and can get started for the deliveries. They will have direct access to job status, earnings, and daily analytics reports.
Store Owner App
Our ready-made deliveroo clone script solution features an interactive dashboard for the store app owners. With this the script let them manage all their orders like a pro. They can easily assign the delivery person and check the order status for customers.
Multichain Management
This segment is for the restaurants that have more than one franchise within the place. Whether you own two restaurants or a chain of restaurants deliveroo clone app got everything covered. Within this segment, you can manage every restaurant together via a single platform.
Central Dispatcher
A central dispatcher within the deliveroo clone script is on the backend. It is to manage all the restaurants, customers, orders, workflow in real-time. One can manually as well as automatically assign the orders to the delivery person via this Deliveroo clone software solution.
Rounding Off
Undoubtedly deliveroo clone app is a great boon for the food industry to gain a competitive edge. Therefore, as an entrepreneur, if you are out to relish the same, we are here for the best help. We hope this article helps you to get a clear insight into the importance, benefits, aspects of the deliveroo clone app.

So, what are you waiting for? Contact us today to get your deliveroo clone app today!
FAQs

Q: Is Deliveroo Clone App Script Is A Good Option?
A: Yes it is, the script is technologically superior integrated with robust features letting clients to apps that are commercially viable. With this, it becomes ideal for both startups and entrepreneurs.
Q: Do Deliveroo Clone App Work On Every Platform?
A: Yes, the app launch via script is perfect to use on both Android as well as IOS platforms. The smart UI and UX interface make it run on every kind of platform.
Q: Is Deliveroo Clone App Is Customizable?
A: Yes. the app is 100% customizable. As a client, you can customize as per your business needs to seek the desired results.